So, my check was $7 more.
Payday happened to coincide with the day my IRA statement came.
Keep the "change" coming!
It will take longer than 28 quarters to recoup my losses. Hoping, of course, that the market will come back. Given the current competence level of the executive and legislative branches of our government, one can't be too sure.
Someone emailed me this with the subject "Americans Following Obama":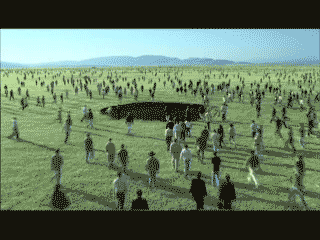 ...and this acronym:
OBAMA: One Big Ass Mistake America
Only time will tell. However, had the market dropped 20% seven weeks into Bush's first term*, there would've been calls for a recall or impeachment.
*DJIA was down 2%, 10686 to 10468, certainly tolerable.
---
http://www.nytimes.com/2008/11/28/opini ... =permalink
Thatís not a recipe for doing nothing. Itís a recipe for skepticism. And it leads to some guiding principles for those designing the $500 billion stimulus plan the next administration seems set on: Donít just throw more money into the sugar rush. Spend money on projects that will enhance the long-term economic health of the country even without a crisis. Do what you would do anyway, just do it faster.
I found this article linked from economist Greg Mankiw's blog and it's the most level-headed analysis I've seen so far.
---
---